Querying and Reporting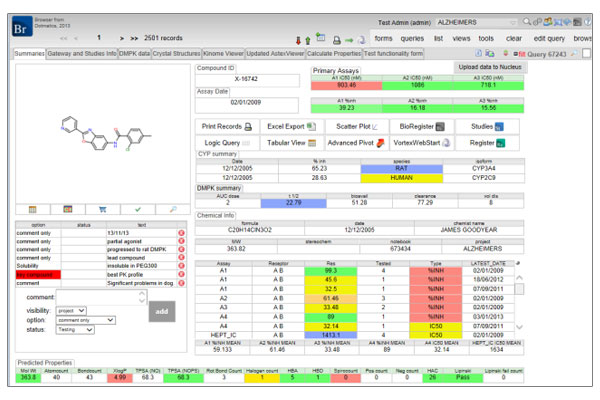 A holistic view of data - vital to making good decisions
Browser is an enterprise query and reporting solution that provides scientists with the ability to easily access all their data, analyse it, and share their results with their colleagues and external collaborators.


Browser
Browser is a web-based tool for querying and browsing biological , chemical or any kind of dataset. It integrates data from any database whether it is chemical, biological or other. In fact, Browser integrates with most commercial chemical cartridges.
Browser is designed for ultra-high performance for both querying and browsing, independently of the amount of data retrieved or the number of users. It is very flexible and easily customisable. Scientists are able to create very sophisticated views of their data in just a few simple steps. Browser is entirely web-based and does not require client installs. It is easy-to-use, easy to manage, and can be accessed from anywhere, securely and efficiently.
Browser enhances knowledge management across an entire organisation. Some key features include:
User level forms can be created using a simple drag and drop interface
Lists, queries & forms can be shared across projects or research teams
Queries can be scheduled and email alerts set-up for users and managers convenience
Chemists are able to request samples to be run through assays. Biologists automatically receive requests via Studies
Data can be exported into Microsoft Office, SDF or CSV files
Hit-lists can be printed in predesigned templates
Browser facilitates immediate visual identification of trends on data stored in the database
New data and recently updated data is immediately flagged to the end user, making identification of new information a simple process
REQUEST A QUOTE