Automatic Colorimeter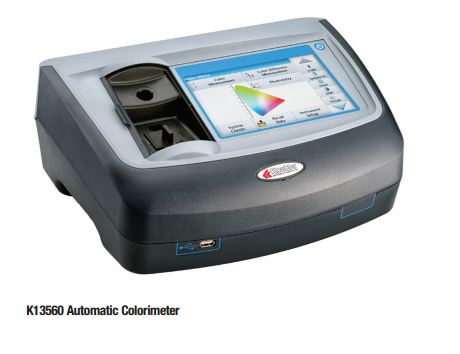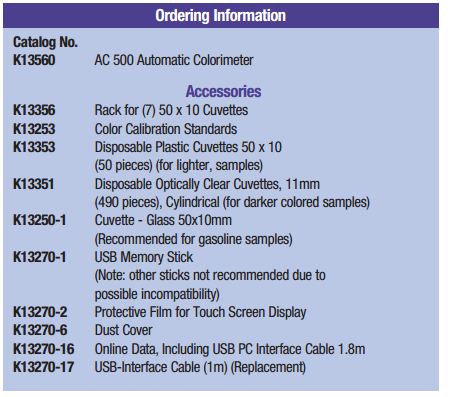 AC 500 - Automatic Colorimeter
. Covers over 25 color scales
. Data storage for 100 color references, 1000 photometric values, 20 time scans, 20 wavelength scans and 3000 color readings
. USB- Ports: 2 x Type A, 1 x Type B and 1 EtherNet
. Automatic Cell Recognition
. Automatic Wavelength Calibration
. 16 Language Options

High performance Spectral Colorimeter measures the color of clear and transparent liquids of over 25 different color scales. Additional capabilities include transmission, extinction measurements and wavelength scans, making the K13560 a versatile instrument for every lab. An EtherNet connection allows users to easily integrate the unit into their laboratory network and transfer results directly to the network. Extremely user friendly; providing clear operating instructions on the 7inch, high resolution touch screen.


Specifications
Beam Height: 10 mm
Data Storage: 100 color references, 1000 photometric values, 3000 color readings, 20 time scans, 20 wavelength scans
Display: TFT WVGA Color Graphic Touch Screen
Display Size: 7 inch
Interface: 2 x USB Type A, 1 x USB Type B, 1 x Ethernet
Operating Temperature Range: 10 to 40°C
Optical Path Length: 10 - 50 mm
Optical System: 0° / 180° rectilinear
Photometric Accuracy: 0.005 Abs at 0 to 0.5 Abs, 1% at 0.5 to 2.0 Abs
Photometric Linearity: 1% with neutral glass at 546 nm, greater than 0.5 % to 2 Abs with neutral glass at 546 nm
Photometric Measuring Range: ± 3.0 Abs (wavelength range 340-900 nm)
Reproducibility: ± 0.2 % transmission
Scanning Speed: 8 nm/s (in steps of 1 nm)
Source Lamp: Tungsten Halogen Lamp
Spectral Bandwidth: 5 nm
Standard Illuminant: AC;D65
Standard Observer: 2°;10°
Storage Conditions: -40°C to 60°C
User Interface: English, French, German, Italian, Spanish, Czech, Dutch, Greek, Polish, Slovene, Slovake, Russian, Turkish, Chinese, Japanese, Korean
Wavelength Accuracy: ± 1.5 nm (wavelength range 340-900 nm)
Wavelength Calibration: automatic
Wavelength Range: 320 nm to 1100 nm
Wavelength Reproducibility: 0.1 nm
Wavelength Resolution: 1 nm


Color Ranges
European, US and Chinese Pharmacopoeia (EP, USP, CP); DIN 6162 Iodine; ISO 6271 Hazen (Pt/Co, APHA, ASTM D1209, D5386); ISO 4630 Gardner (ASTM D1544, D6166); ISO 27608 Animal and Vegetable Fats and Oils; ASTM D156 Saybolt; ASTM D848 Acid Wash Test; ASTM D1925 Yellowness Index (ASTM D5386); AOCS Cc13e, BS 684 Ly/Lr; ADMI, ICUMSA, EBC, ASBC, Hess-Ives
Electrical Requirements
100-240V / 50-60Hz


Dimensions
(H x W x D) 15.1x35.0x25.5cm (5.94x13.87x10.04in)
Net Weight: 4.20 kg (9.26lbs)



REQUEST A QUOTE