Oxidation Stability Bath K12219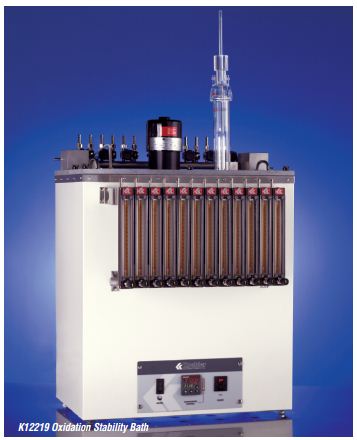 Oxidation Characteristics of Inhibited Mineral Oils
Sludging and Corrosion Tendencies of Inhibited Mineral Oils
Oxidation Stability of Distillate Fuel Oil (Accelerated Method)
Oxidation Characteristics of Extreme-Pressure Lubrication Oils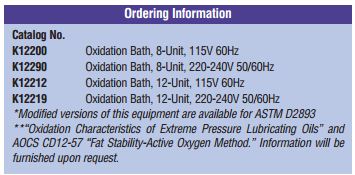 Test Method
Evaluates oxidation stability by subjecting the sample to a temperature of 95°C in the presence of oxygen or dry air. For inhibited mineral oils, the sample is reacted with oxygen in the presence of water and an iron-copper catalyst.

Oxidation Stability Apparatus
. Thirty and sixty-place liquid baths for high volume testing requirements
. Eight and twelve-place liquid baths for benchtop placement
. Twelve-place solid block bath
. Conforming to ASTM and related test method specifications
. Special baths for ASTM D2893 and AOCS CD12-57 tests

Eight and Twelve-Place Oxidation Baths
. Conforming to ASTM and related test method specifications
Constant temperature baths with solid state temperature control, calibrated flow-meters and condenser water manifold for oxidation stability tests on fuels and lubricants. Individual flow-meters and control valves for each oxidation cell deliver air flow at the rate of 3L/h. Condenser water manifold has individual control valves for each cell. Microprocessor PID control provides quick temperature stabilization without overshoot, and the bath is protected by a redundant over temperature control circuit that interrupts power should bath temperature exceed a programmed cut-off point. Display provides actual setpoint temperature values in °C/°F format. Communications software (RS232, etc.), ramp-to-set and other enhanced features are available as extra cost options. Double-wall insulated baths are equipped with copper immersion heaters and a 1/20 hp circulation stirrer. Stainless steel bath interior has a built-in support rack and overflow/drain to immerse the test cells at the required depth. Order oxidation cell glassware and accessories separately.


Specifications
Conforms to the specifications of : ASTM D943, D2274, D2893*, D4310, D6158; AOCS CD12-57** DIN 51586, 51587; ISO 4263, ISO 12205; NF M 07-047; NF T 60-150
Test Capacity: 8 or 12 oxidation cells
Temperature Range: ambient to 212°F (100°C)
Temperature Control Stability: ±0.2°F (±0.1°C)
Bath Medium: white technical oil
Bath Capacity: 8-place model: 10 gal (37.8L) , 12-place model: 19 gal (71.9L)


Electrical Requirements
8-place model: 115V 60Hz, Single Phase, 13.0A 220-240V 50/60Hz, Single Phase, 6.8A
12-place model: 115V 60Hz, Single Phase, 32.6A 220-240V 50/60Hz, Single Phase, 17.0A


Dimensions lxwxh,in.(cm)
8-place model: 17.1/2x25x42 (44x64x107)
12-place model: 22x14x42 (57.15x35.56x107)
Shipping Information
Shipping Weight: 8-place model: 137 lbs (62.1kg) 12-place model: 213 lbs (96.6kg)
Dimensions: 8-place model: 29 Cu. ft. 12-place model: 29 Cu. ft
REQUEST A QUOTE